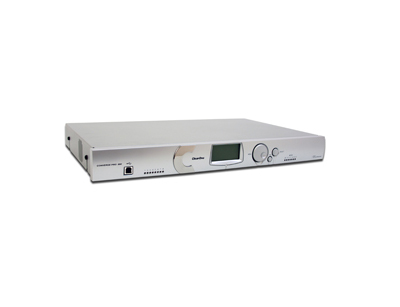 ClearOne Converge Pro 840T
Professional conferencing system – Complete, digital matrix mixer conferencing solution with built-in telephone interface and speaker amplifier Ideal for collaboration, presentation and distance communications, the CONVERGE Pro 840T capitalizes on ClearOne's legacy audio technology with proven HDConferenceTM audio processing for unmatched sound and the most natural audio conferencing experience possible.
$2.951,20
Description
Four built-in mic inputs, enterprise-telephone interface, speaker amplifier for standalone applications, enhanced management features and simplified configuration make 840T the perfect expandable solution for virtually any venue or application.
Unmatched HDConference™ Audio
Full-bandwidth Acoustical Echo Cancellation (AEC) keeps audio clear of reverberations
Improved duplex performance to create the most natural interaction
Next-generation noise cancellation with adaptive modeling matches rooms ambient noise
Increased resolution on Microphone Preamp stage provides fine tuning 0-56 dB in 7 dB increments
D.A.R.E™ (Dynamic Automatic Resonance Elimination) completely controls feedback
Next-generation Distributed Echo Cancellation® on every mic input
First-mic priority delivers clear audio to the far end
20 Hz-22 kHz bandwidth for full-range audio response
Automatic Gain and Level controls maintain balanced and consistent audio clarity
Flexibility
Scalable by linking multiple units for extensive mic coverage and up to 16 phone lines
Ten mic gating groups (four internal & six global) allow separation of mics into individual mixer gating groups for greater configuration flexibility
No space required between rack mounted units
32 presets can be executed on-the-fly without disturbing other ongoing preset operations
Improved Management
SNMP and HTML remote management give IT professionals flexible options for access
Event scheduler and diagnostic console for automation of updates and simplified maintenance
Simplified Configuration and Compatibility
Built-in telephone interface and 10W power amplifier
Integrated Ethernet and USB connections
Link multiple CONVERGE/CONVERGE Pro units (CONVERGE Pro 880, 880TA, 8i, TH20, CONVERGE SR 1212 and SR 1212A) for extensive microphone coverage and up to 16 phone lines
Enhanced expansion bus, featuring 18 mix-minus audio buses for routing between units
255 Macros for customized audio control/configuration with single command execution
Drag & drop A/V and channel objects
Selectable views—unit, matrix, channel
WARRANTY: 2 years, From date of purchase
Made in China
---
Only logged in customers who have purchased this product may leave a review.