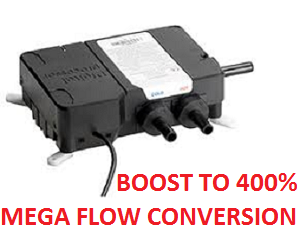 Aqualisa Standard Processor Tuning Service TURBO 4
Aqualisa Standard Processor tuning service: up to 4 times (400%) the intended water mixing and flow delivery performance.  By the people who know Aqualisa Processors better than the manufacturer themselves.  Introductory low price
£350.00
Description
We will modify your Aqualisa Standard (High Pressure) Processor to deliver more than twice the water it currently does.  The modification involves hardware and software alterations and truly increases the flow by a factor of up to 4 (400%).
We can only re-chip working processors.  If you process is not in good shape we would need to repair it first which carries associated costs.
Turn around is 3 working days after receipt of your Aqualisa.  The return is via UPS 24 hour trackable service (phone number is required).
As this is a special upgrade service to old equipment we can offer six (instead of 3) months limited warranty, which can be extend up to 5 years.
Kind reminder!  We are living through a global water shortages and although we can tune your Aqualisa Processor please consider the service only if you need it. Thank you!
Disclaimer: This service alters the performance of the Aqualisa Processor and in test conditions it will blend and deliver in excess of 3 times more water.  However performance of every plumbing system is different and the results would vary from system to system